Observations of interesting facets of life in this beautiful, fascinating little country.
The street art in Cuenca is second to none, and I mean that. Gorgeous, elaborate paintings and drawings are everywhere, often amusing and with historical references. Jaw-dropping quality that brings fun and surprises to every walk along just about every street.


Where else in the world do jugglers jump into traffic stopped at a red light, bow and proceed to entertain before jogging between vehicles and asking for donations? We've seen acrobatics, ball and club jugglers and clown acts working the busier intersections of Cuenca.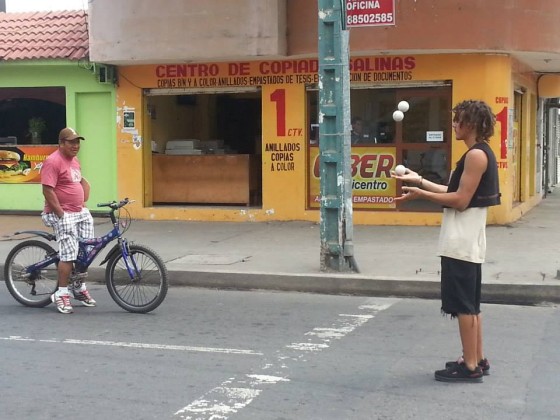 # # #
This has to be one of the most outgoing cultures we've encountered. Everyone offers respectful greetings – buenas dias, buenas tardes, etc. – to perfect strangers. Good manners seems deeply woven into the culture, which is why it's all the more embarrassing to witness, as I did, a crabby American belly up to the coffee bar and make demands on the staff that were rude, insensitive and stupid. Get a clue, travelers and relocated expats!
# # #
Love seeing the traditional garb of Ecuadorian women all over the streets and markets. Frilled skirts with brocade trimmings, woolen sweaters and shawls  tossed over their shoulders, braided hair and felt fedoras for everyone! Nice to see a place with a strong cultural identity that hasn't completely caved to the power of Levi's marketing.
# # #
Ecuadorians commitment to security knows no limits. One day we saw an armed security guard outside a KFC franchise attached to the mall. Guess there'll be no heist attempts on 20-piece buckets, at least at that location.